Conclusion:
Conclusion:
Based on the analysis below, the aspect of transit Mars (from Scorpio – signifying mystery, suicide or murder) on the jeeva karaka (Venus) and atma karaka (Sun) shows some mystery behind her death and the mystery behind her death will get opened up in future. For detailed astrological analysis on other aspects read the analysis given below.
Analysis
She was an Indian actress and film producer who starred in Tamil, Telugu, Hindi, Malayalam, and Kannada films. Regarded as one of Indian cinema's biggest female superstars, she was the recipient of two Filmfare Awards and three Filmfare Awards South. Sridevi ranked among the highest-paid actors in the 1980s and 1990s and is considered to be one of the most popular actresses of Indian cinema.
Sridevi died on 24 February 2018 at 19:00 GMT in Dubai. Although it was announced earlier that the cause of death was a cardiac arrest, the forensic report released by Dubai Police indicated that Sridevi died of accidental drowning at a bathtub of room number 2201 in the Jumeirah Emirates Towers Hotel. Traces of alcohol were found in her body and water was found in her lungs.
At the time, she was with her husband Boney Kapoor and daughter Khushi at her nephew Mohit Marwah's wedding function in the northern UAE. After rumors that news of her death was an Internet hoax, her brother-in-law Sanjay Kapoor confirmed that it was true. Her fans, co-stars and Bollywood stars wrote condolences on Twitter to mourn the death. After few days of the investigation, on 27 February, her case was closed and the body was flown back to Mumbai, India by her husband Boney Kapoor and stepson Arjun Kapoor on a private jet, belonging to Anil Ambani. Her funeral took place on 28 February at the Vile Parle Seva Samaj Crematorium, Mumbai. She was cremated with state honours and also received a gun salute at her funeral. Her pyre was lit by her husband, Boney Kapoor.
The following is her horoscope.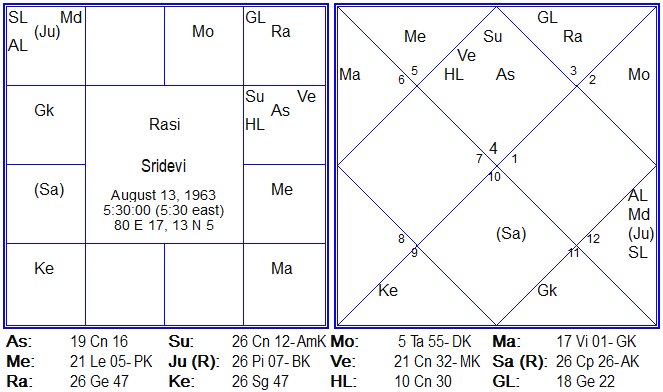 The horoscope at the time of death is as follows. As per autopsy report the time of death was reported at 10.01 pm. This is equivalent to 8.30 pm India time.
The Asc rising is 19 Cancer 16 in the birth chart. The vimshottari dasa at the time of her death was Saturn/Saturn/Sun. The dasa lord Saturn is lord of 7th (Maraka) and 8th (death). The prati-antara lord Sun is the 2nd lord (maraka). So it has to give death. The transit Rahu at 20 Cancer 41 was exactly going over the natal Asc at 19 Cancer 16. The transit Mars was at 23 Scorpio 32. The transit Saturn was going in the 6th house of accident/sickness and transit Sun was going in the 8th house of death. The transit Saturn was transiting in the Moola nakshatra (ruled by Ketu). Ketu is in the 6th house in natal chart and 7th house of transit. The prati antara dasa lord Sun was in the star of Satbhisha (ruled by Rahu). Rahu is in the 12th house of moksha in the natal chart and in the Lagna in the transit chart.
As per Naadi astrology, the progressed Rahu will be in Pisces from 51 years to 69 years. So, the progressed Ketu will be in Virgo. The progressed Saturn will be in Pisces from 34 years to 64 years. The progressed Jupiter will be Leo from 49 years to 61 years. The transit Jupiter was in Libra (28 Deg 52), transit Saturn in Sagittarius (12 Deg 52), transit Rahu in Cancer (20 Deg 41) and transit Ketu in Capricorn (20 Deg 41). The transit Mars was in Scorpio (23 Deg 32). The progressed Rahu trines natal Venus (Jeeva karaka) and Sun (Atma). The same natal Venus and Sun were also conjunct transit Rahu/Ketu. The transit Mars (from Scorpio – signifying mystery, suicide or murder) was in Scorpio 23 Deg 32 was giving its trine aspect to natal Venus and Sun. Similarly, progressed Rahu and Saturn was casting its aspect to natal Mars (Deha or Body). At the same time transit Ketu was also trine to natal Mars. Thus all the planets slow moving planets (both progressed as well as transit) Saturn/Rahu/Ketu and Mars were casting its aspect on natal Venus, Sun and Mars. The aspect of Mars shows some mystery behind her death and her death will one day trigger being a suicide or murder. Anyway her death is a mystery for certain.
Sundar Balakrishnan
B.Com., MFM Finance (NMIMS)
2 Year Jyotirvid and 3 Year Jyotirvisharad
(From Bharatiya Vidya Bhawan, Mumbai)
Faculty of Astrology at Bharatiya Vidya Bhavan, Mumbai.
Visit: www.jupiterastrology.com
Date: March 2, 2018
Time: 9.00 PM, Mumbai