Conclusion (For detailed astrological analysis read the analysis section):
Financially he will grow to new heights
Health will be a major cause of concern from here on in the years 2022/2023/2024
So, looking at the upcoming dasa and transit, Mukesh Ambani will majorly operate from UK due to health reasons. Long life to Mukesh Ambani.
Analysis:
Mukesh Ambani is in the lime light in the recent times and also was in buzz in 2020 for health reasons. When Mukesh Ambani was in the news stating that he is relocating to UK, the Reliance Industries Limited (RIL) on Friday rubbished a media report that suggested that business tycoon Mukesh Ambani and his family are planning to partly reside in London. Terming the report "baseless", RIL categorically stated that "the Chairman and his family have no plans whatsoever to relocate or reside in London or anywhere else in the world". The statement also mentioned that recent acquisition of Stoke Park estate by RIIHL, an RIL group company, is aimed at enhancing it as a premier golfing and sporting resort, while sticking to the planning guidelines and local regulations. "This acquisition will add to the fast-growing consumer business of the group. Simultaneously, it will also expand the footprint of India's famed hospitality industry globally," RIL added.
Mukesh Ambani was born at Aden, Yemen on April 19, 1957 at 7.47 pm. Later he relocated himself along with his father to Mumbai from where he has been operating for long time. In astrology, when a person relocates himself to a far of place, one needs to cast a relocated chart taking the same birth time for the relocated place. Hence, I have provided two charts below, first the birth chart of Aden and then relocated chart for Mumbai.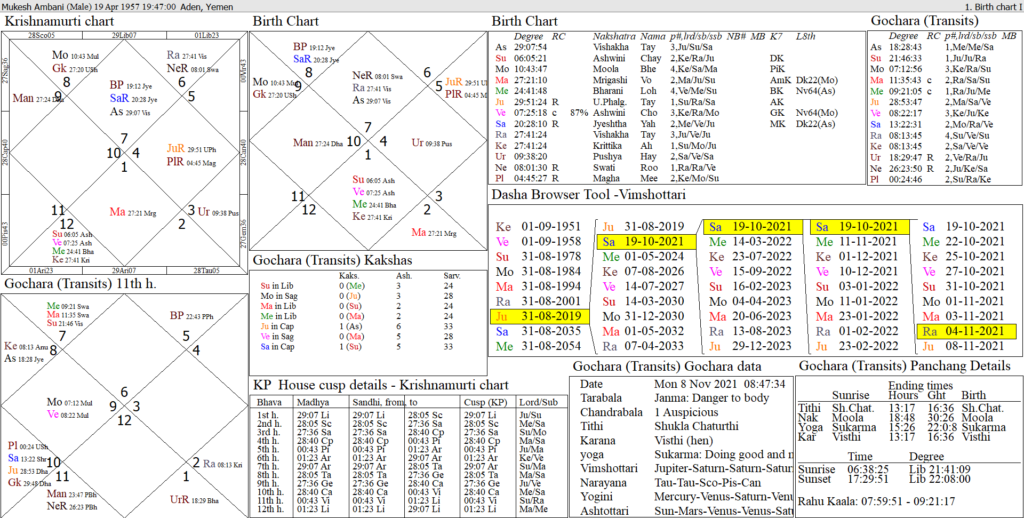 The below given chart is for Mumbai.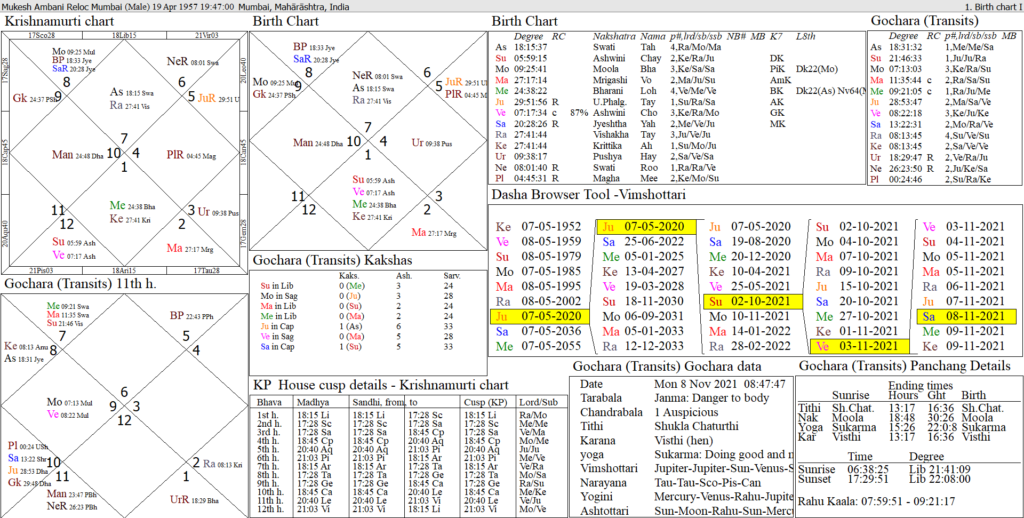 We will take the relocated chart for Mumbai and analyse the whether there is any indication of his relocation, his future in terms of his financials, health, etc.
In the above the chart the Asc rising is Libra at 18.15 degrees. The dasa running is of Jupiter/Jupiter from May 2020 till June 2022. There is an exchange between planets Mars and Venus. In the above chart, Jupiter is in the 11th house both in bhav chalit and rashi. Since, Jupiter is in the 11th house it will act as badhaka planet. In astrology the badaka planet will only give trouble to the health and relationships. This Jupiter will give him more wealth as it is in the 11th house of gains. Now, let us see with which planets Jupiter is connected with. Jupiter is connected with Ketu in Aries (Mars) and in nakshatra of Krittika (Sun). Both Mars and Sun are in 8th and 6th houses, respectively. Jupiter is also connected with Mercury which is in the 7th house, lord of 9th and 12th houses. The 7th house is business, 9th house is long distance travels and 12th house is relocation to a new place. Jupiter is aspected by Saturn by its 10th aspect from the 2nd house. Saturn's 3rd and 10th aspects are not good as it will slow down the Jupiter's pace and Jupiter will carry all qualities of Saturn. Jupiter is also connected with Moon, Sun and Mars. Here, Sun is in the 6th house and Mars is in the 8th house. So, this period of Jupiter will be a period of travel, relocation and taking extreme care of health. So, Jupiter will operate with all qualities/houses of Ketu, Mercury, Saturn (10th aspect), Moon, Mars and Sun.
In the recent past in the year 2020 there was news about his health and rumoured to have liver transplant in UK. There were several news floating about his health and operation. Based on the above significations of Jupiter dasa, astrologically it seems to be true. Around November 2020, the transit Rahu was over the natal planet Mars in Taurus at 27.17 degrees (to be taken as over Venus, as there is exchange between Mars and Venus). Venus is the lord of Lagna in the 8tn house (after exchange). In the birth chart too, the natal Venus is connected with Rahu. So, he has gone through some health issue/operation, that is for sure.
Looking at the upcoming dasa/antara and transits, the transit Jupiter will transit to Aquarius and get connected to natal Rahu in 2022 before April 2022. So, till April 2022, he should take all possible care of his health. In 2022/2023 too (when Jupiter/Saturn dasa will be on from June 2022 to January 2025), the transit Saturn will move too Aquarius and give its 3rd aspect to planets in the sign Aries (Sun, Venus, Mercury and Ketu) and also trine the natal Rahu in Libra at 27 degrees (In the natal chart, Saturn is also connected with Rahu). This transit is also not good. In the end of the year 2023 around November, the transit Ketu will move to sign Virgo and begin its affliction to natal Jupiter in Leo at 29 degrees. This period of 1.5 years from November 2023 will be quite challenging for his health as Jupiter's dasa is also going on and Jupiter is badaka planet bring in badaka house. Also, as per the secondary progression, the progressed Moon will be in 6th house from the beginning of March 2023. The progressed Moon will also approach the natal Pluto (lord of 12th) with the square aspect. So, 2023 also by tropical chart shows problems with respect to his health. Also, the progressed MC (profession) is seen progressing in the 12th house of relocation.
So, looking at the above upcoming dasa and transit, Mukesh Ambani will majorly operate from UK due to health reasons. Long life to Mukesh Ambani !!!!!
Sundar Balakrishnan
B.Com., MFM Finance (NMIMS)
2 Year Jyotirvid and 3 Year Jyotirvisharad
(From Bharatiya Vidya Bhawan, Mumbai)
Certificate/Diploma/Advanced Diploma in Sanskrit (From Mumbai University)
M A Sanskrit (Darshan) from Kavi Kulguru Kalidas Sanskrit University, Ramtek, Nagpur)
Professor of Astrology at Bharatiya Vidya Bhavan, Mumbai
Date: November 8, 2021
Time: 12.00 Noon, Mumbai, India
(Copyright – No portion of this article can be reproduced without the written permission of the Author)