Conclusion (For detailed astrological analysis read the analysis section):
Aryan Khan – His dasa of Sun till June 2025 is going to be very bad with respect to his defamation, health, humiliations, will be in seclusion, setbacks in profession, mental turbulations, etc. His upcoming antar dasas are also not good when taken along with the future transits. The years especially of 2022 and 2023 will be very bad for him.
Sameer Wankhede – His current dasa of Saturn and upcoming Mercury/Ketu antar dasas are going to be very taxing for him. The upcoming transits of Jupiter/Saturn in Aquarius are also not good for him. He will be charged with corruption, face humiliations, setbacks, suspension, transfers, mental disturbances, punishment, etc in the coming years till 2025, especially 2022/23 will prove to be very bad.
Analysis:
On Oct 2, 2021, a Cordelia cruise, Mumbai to Goa was raided by the Narcotics Control Bureau (NCB) where they seized 13 gms of cocaine, 5 grams mephedrone, 21 grams charas and 22 pills of MDMA or Ecstasy, and detained several people including a 'Bollywood megastar's son', Aryan Khan. On Oct 3, 2021, Aryan Khan was arrested along with his friend Arbaaz Merchant and Munmun Dhamecha. After undergoing tests, the accused were produced in front of the magistrate, who sent them to a one-day NCB remand. On, Oct 4, 2021, Infront of the magistrate, the NCB claimed to have discovered texts on Aryan Khan's phone pointing to international drug trafficking. Court allowed NCB to keep the accused under their remand for three days till October 7, 2021. Finally, on Oct 26, 2021, Bombay High Court heard to the bail petitions filed by Aryan Khan, Arbaaz Merchant and Munmun Dhamecha. Mukul Rohatgi, Former Attorney General represented Aryan Khan along with Satish Manishinde and Amit Desai. Rohatgi argued that the NCB arrest of his client was "illegal. High Court adjourned the hearing till next day. On, Oct 28, 2021, Court granted bail to all three.
Now, with the above at the background, we will analyse the charts of Aryan Khan, and Sameer Wankhede. The reason why I took to analyse Sameer Wankhede is because Sameer Wankhede has been targeted by the MVA Government for alleged extortion for release through the Manager of SRK, Pooja Dadlani .
When all the above episodes were happening, in the case of Aryan Khan on October 3, 2021, I tweeted (https://twitter.com/jupiter_astro/status/1444543054010929154). It was predicted as…"@iamsrk Son caught in drug racket. Dasa is Sat/Mars. Mars in 4th hse which is 12th to 5th. Transit Ketu is approaching natal Mer. In natal Ketu is connected with Mer. Transit Sat will approach natal Moon & Rahu. His Son will not be spared & SRK will go thru terrible time."
On October 4, 2021, I tweeted (https://twitter.com/jupiter_astro/status/1444924687092355074) with the chart of Aryan Khan (birth time was not available) and predicted as…."He will be in deep trouble for sure @iamsrk".
I am now privy to the birth time of Aryan Khan and we will analyse his chart first.
Similarly, in my tweet on October 13, 2021 (https://twitter.com/jupiter_astro/status/1448125055372861448) it was predicted for Sameer Wankhede as …."Possibilities in 2021/2022. He will be exposed by MVA Govt, health needs care, security to be given to him, his career under threat, transfers, etc.".
I am now privy to authentic birth details of Sameer Wankhede, however to maintain secrecy, I will not be sharing his birth details nor his birth chart. I will only give my predictions in brief.
Aryan Khan was born on November 13, 1997 at 2.00 pm at Delhi. I have given below both the sidereal and tropical (two charts grid with natal and transit/progressed) charts.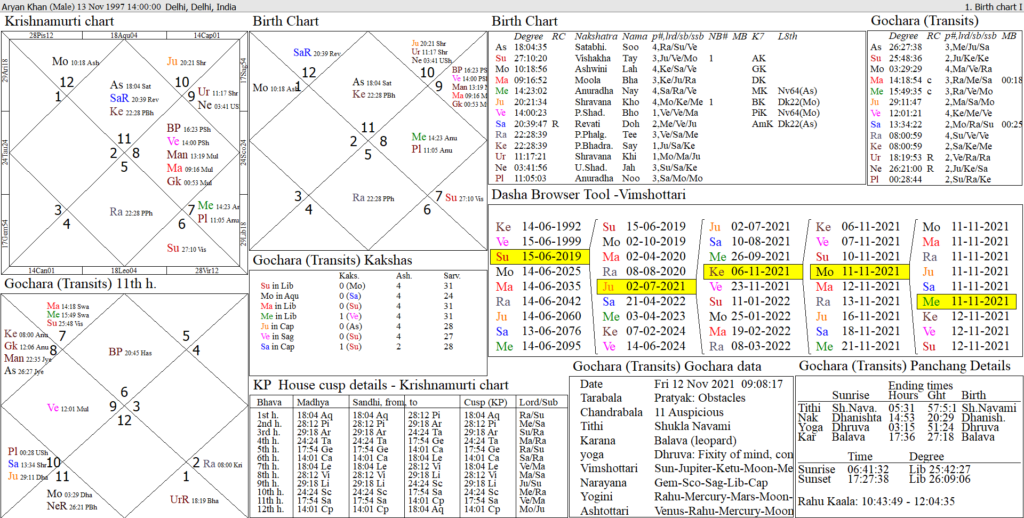 The Asc rising is Aquarius at 18.04 degrees. There is an exchange between Saturn and Jupiter (the lords of 2nd and 12th houses). The Asc is connected with Ketu (in 1st house, in Jupiter's star which is in 12th house), Mercury (Lord of 5th and 8th house mooltrikona lord, in the 9th house), Mars (by 4th aspect, lord of 3rd (badaka) and 10th house) and Jupiter (lord of 2nd and 11th in the 12th). Since, there is exchange between Jupiter and Saturn, the birth chart will be considered before 27 to 33 years (after these years, the exchanged chart will be considered). Since, he is going through 23rd year, the Asc lord Saturn is connected with planets Mars (by 4th aspect, lord of 3rd (badaka) and 10th house), Mercury (Lord of 5th and 8th house mooltrikona lord, in the 9th house), Sun (lord of 7th in the 8th house), and Ketu (in the Asc, in Purvabhadra (Jupiter in the 12th house)).
The dasa is of Sun which is in the 8th house in the star of Vishaka lorded by Jupiter which is in the 12th house. Since the dasa is of Sun is connected with Mercury (lord of 5th and 8th house (mooltrikona house) in the 9th house)), and Saturn's 10th aspect (lord of 1st in the 1st). Sun till June 2025, he will face defamation, obstacles, health issues, seclusion, jails, losses, etc.
The antara lord is Jupiter in the 12th house. Jupiter in the birth chart is connected with Ketu and in transit too Jupiter will get conjunct with Ketu in Aquarius which is at 22.28 degrees. Transit Jupiter will before March 2022 will get conjunct with natal Ketu in Aquarius. So, this period is not good for him and he will face the probe again and it could be a long-drawn probe.
The transit Rahu will also get conjunct with natal Moon in Aries at 10.19 degrees. The effect of this transit Rahu on Moon has already begun and it will be conjunct the natal Moon in April 2023. So, the period from here on till April 2023 will also be troublesome for him for his health, will go through mental harassment, etc.
From March 2022 till January 2023, the transit Saturn will start giving its 10th aspect to natal Sun in the 8th house, whose dasa is going on and in natal chart too, the Sun is connected with Saturn. This will give him defamation, bad name, negatively affect his status, etc. Later, the dasas will be Sun/Saturn from April 2022 to March 2023, Sun/Mercury from April 2023 to February 2024, and Sun/Ketu from February 2024 to June 2024. During this period transit Saturn will be conjunct natal Ketu. So, years 2022/2023/2024 will be very problematic for his name, fame, profession, health, mental disturbances, etc.
In the above chart, the transit Pluto lord of 9th house of luck, fortune, etc is quincunx to Pars of fortune in the 6th house of disputes, health, etc. The transit Neptune in the 1st house is trine to natal Sun in the 9th house, lord of 6th house is a saving grace. Later in the year 2022, transit Pluto (lord of 9th house) will be conjunct natal Neptune (lord of 1st house), this is not. So, the year 2022 also seems troublesome for Aryan Khan.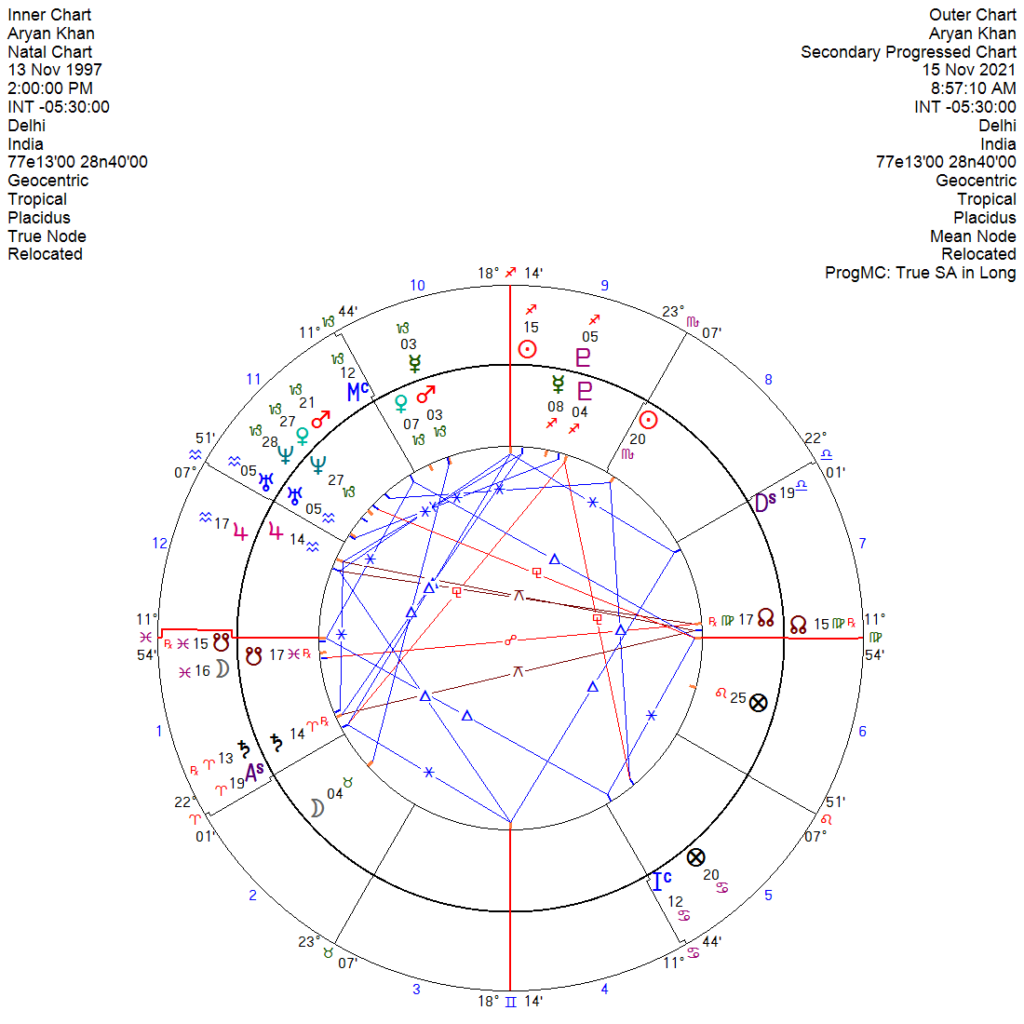 In the above progressed chart, the progressed Venus (lord of 3 and 8) is conjunct natal Neptune (lord of Asc). This is not a good combination and it will give obstacles, defamation, bad name, seclusion, health issues, etc. In the year 2022, the progressed MC will be square to natal Saturn. Again a turbulent period of 2022 for his profession, status, name, fame, etc.
So, to conclude, Aryan Khan's trouble will only increase in the coming years till June 2025.
Now, let us look at Sameer Wankhede's predictions. As stated earlier, though I am privy to the authentic birth time, I will not share the birth details. However, his birth date is available in the social media as December 14, 1979 at Mumbai. His dasa is of Saturn. This period he can be removed, transferred, face humiliations, charges of corruption, health can be affected, etc. The coming antar dasa of Mercury is also very bad for him as it has connections with Mars and Rahu which signifies 8th house. Overall, a bad period till 2025, especially 2022/23.
Sundar Balakrishnan
B.Com., MFM Finance (NMIMS)
2 Year Jyotirvid and 3 Year Jyotirvisharad
(From Bharatiya Vidya Bhawan, Mumbai)
Certificate/Diploma/Advanced Diploma in Sanskrit (From Mumbai University)
M A Sanskrit (Darshan) from Kavi Kulguru Kalidas Sanskrit University, Ramtek, Nagpur)
Professor of Astrology at Bharatiya Vidya Bhavan, Mumbai
Date: November 15, 2021
Time: 12.00 Noon, Mumbai, India(Copyright – No portion of this article can be reproduced without the written permission of the Author)