We have earlier seen why Uddhav has been adamant. Now let us look at the 2nd part of rge article with respect to transit of planets versus the natal planets and dasa in operation.
The following is chart of Uddhav Thackeray.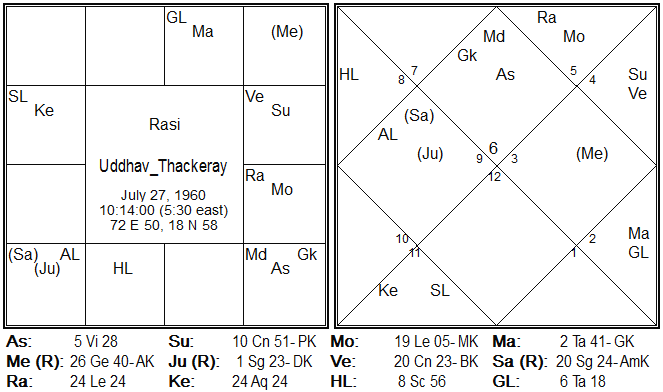 The dasa is of Jupiter/Jupiter. Jupiter in the chart is the lord of 4th house and 7th house. 4th house is "throne" and 7th house is alliance partners. In natal chart Jupiter is retrograde along with 6th house (disputes, fights, etc) Saturn.
In transit Jupiter is afflicted by Mars, the lord of 8th house. Jupiter in transit is in the 11th house along with natal Uranus. Both are in exact conjunction at 27 degrees of Cancer. Uranus in western astrology is the part lord of Aquarius (lord of 6th house).
Jupiter though transiting in the 11th house from lagna is transiting in 12th from natal Moon. Transit Jupiter is also afflicted by transit Mars (lord of 8th).
I initially thought transit of Saturn from Libra to Scorpio will be a deal breaker. But Saturn in Scorpio is weak in Ashtakavarga. In SAV Scorpio has only 27 points which is far less than 36 pints in Libra. In BAV Saturn has only 3 points in Scorpio which is also less as compared to 5 in Libra. In transit Saturn is in Kaksha of Saturn which has not contributed in BAV. So Saturn's transit to Scorpio is of no help.
All these points out that Shiv Sena will not support Maharashtra Government and will sit in opposition. It will also call back its leaders from the Centre as well. If this happens as predicted then it will be difficult for the Maharashtra government to survive for a long time. Read my article on Oath taking chart of Maharashtra Chief Ministers, Devendra Fadnavis.
Sundar Balakrishnan
November 9, 2014
Mumbai, 5.30 pm