We have discussed this issue with the help of Uddhav Thackeray's chart. The last article written by me in facebook where I had mentioned that Mars transit to Capricorn could trigger Shiv Sena giving support. Now I have studied this in more details with the help of Ashtakavarga. On the face of it one may appear that Mars getting exalted could trigger the event. But when we study from point of view of Ashtakavarga it reveals a negative picture.
Come let us see this astrologically threadbare with the help of ashtakvarga.
The following is chart of Uddhav Thackeray.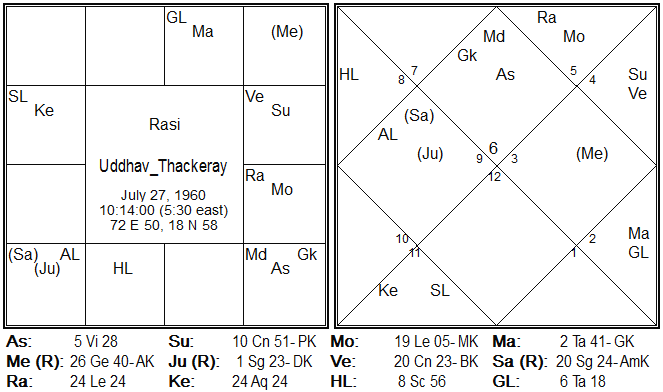 As you know Mars will be transiting Capricorn on November 27, 2014. Mars for Virgo lagna is a malefic. Mars the 8th lord is currently transiting on the lord of 7th and 6th, i:e. Jupiter and Saturn. The 7th house as we all know is the house of allies or partnership. In the ashtakavarga, the SAV has 24 points in Sagittarius. In the BAV it has 4 points contributed by Sun, Mars, Venus and Saturn. Now the Saturn in transit is transiting in the kaksha of Lagna. In Capricorn, the SAV has 22 points and in the BAV of Mars it has only 1 point, which is lesser than Sagittarius. In Capricorn the BAV of Mars is contributed by Moon. For the Mars to give its real exaltation effect will have to transit the kaksha of Moon. This will happen between 27th to 30th December, 2014.
The vimshotari dasa is Jupiter/Jupiter/Rahu. Jupiter the lord of 7th is retrograde with Saturn lord of 6th (disputes). Rahu is in 12th house. So dasa is not conducive.
Sundar Balakrishnan
2 year-Jyotirvid and 3 Year-Jyotirvisharad
(From Bharatiya Vidya Bhavan, Mumbai)
November 26, 2014
Mumbai, 10.00 pm