Conclusion:
With many benefic combinations in the chart listed below, Angela Merkel is set to win the elections to be held today.
Analysis
As I was reading newspaper today, I saw an article on Times of India about the prospects of her winning the elections which are going to be held today that is 24th September 2017. I then got the birth details from Astro.com with the Rodden Rating "B" and started analysing it. The analysis is given below.
Background
Federal elections will be held in Germany on 24 September 2017 to elect the members of the 19th Bundestag. The new Bundestag will have to elect a Chancellor with an absolute majority of its members, who will in turn form a new government.
The Christian Democratic Union/Christian Social Union (CDU/CSU), led by Angela Merkel, has maintained a double-digit lead over the Social Democratic Party (SPD) in opinion polling since the 2013 election, aside from a period in early 2017 following the selection of Martin Schulz as SPD leader.
The Asc rising is 16 Sagittarius 30. Her Asc lord Jupiter and the 9th lord (fortune) Mercury are very closely conjunct in the 7th house of Public image. However, her Sun (Politics) in 24 Cancer 33 is Square to the 10th lord, which is not good.
Now let us see the Natal v/s Progressed Chart.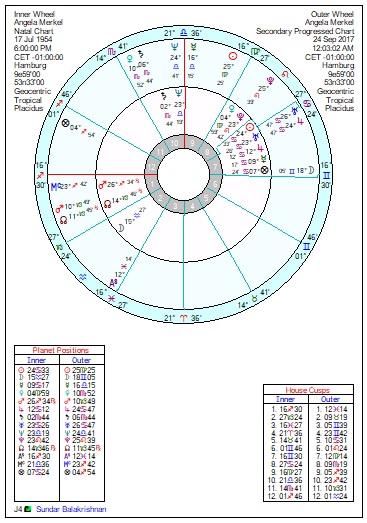 In the above chart following aspects are notable.
1. Progressed Asc at 12 Pisces 14 is exact Trine to natal Asc Lord Jupiter 12 Cancer 12. What a superb combination for winning.
2. The Progressed Sun at 12 Virgo 25 is in exact Sextile (Opportunity) to Natal Sun at 24 Cancer 33. Again an excellent combination.
3. The Progressed MC is on the Asc 23 Sagittarius 42. It is making a Quincunx (malefic) to Natal Uranus 23 Cancer 26. Not so good combination.
4. The Progressed MC is on the Asc 23 Sagittarius 42. It is making a Trine (benefic) to Pluto 23 Leo 42. Again a super combination.
5. The Progressed MC is on the Asc 23 Sagittarius 42. It is making a Sextile (benefic) to Neptune 23 Libra 19. Again a super one.
6. Progressed Moon at 18 Gemini 05 in the 7th (public image) house of natal chart is making following combinations.
a. The Progressed Moon is conjunct the 7th house cusp. Good.
b. The Progressed Moon is making a Trine (benefic) to Progressed Mercury (lord of 7th house) at 16 Libra 15 in the 7th house of Progressed Chart. Again a good one.
7. So overall there are very good combinations for winning.
Sundar Balakrishnan
B.Com., MFM Finance (NMIMS)
2 Year Jyotirvid and 3 Year Jyotirvisharad
(From Bharatiya Vidya Bhawan, Mumbai)
Faculty of Astrology at Bharatiya Vidya Bhavan, Mumbai.
Visit: www.jupiterastrology.com
Date: 24th September, 2017
Time: 8.30 AM, Mumbai