Conclusion:
Based on the analysis below, we can expect the following.
He can face nationwide protests in the coming months till February 2021, which will make him resign from the post of PM.
His public image will be tarnished.
He can meddle in the affairs of India, by creating tensions at the border in order to deflect attention of his people and there by gain political mileage for himself. This is possible before February 2021
He can also be assassinated between January 2021 to January 2022
Analysis:
The chart of Imran Khan is attached.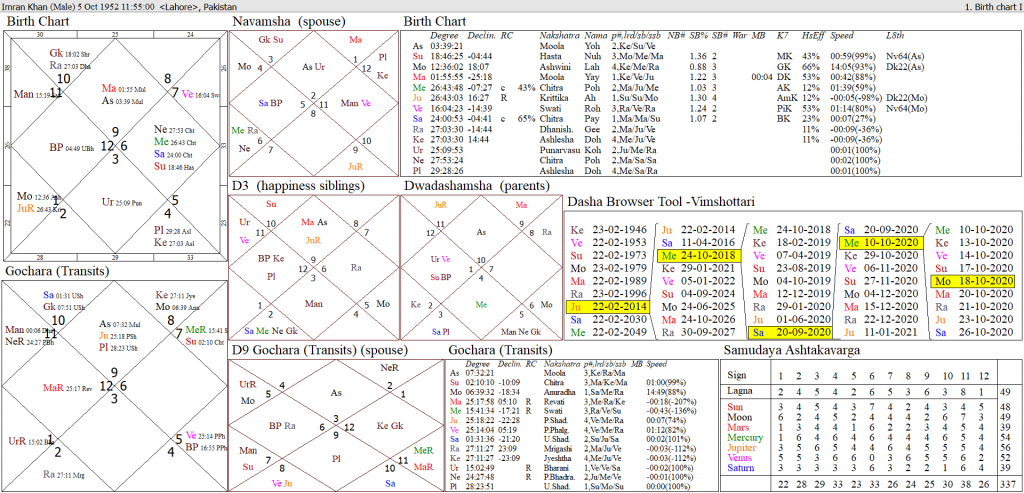 The Ascendant/Lagna rising is Sagittarius at 3 deg 39 mts. The dasa is of Jupiter/Mercury from October 24, 2018 to January 29, 2021. The antara lord Mercury is exalted in Virgo and its exalted in Navamsa chart too. Mercury is the lord of 7th (Public image) and 10th (Profession, status, etc). Mercury is combust being close to the Sun. From January 29, 2021 to January 5, 2022 it will be period of Jupiter/Ketu. Ketu the antara lord is in the 8th house and its not a good placement for Ketu to be in the 8th house.
The transit of Rahu/Ketu into Tarurus/Scorpio will prove to be very testing period for him. Till such time Jupiter/Mercury period is going on till January 29, 2021, transit Rahu will afflict the natal Mercury and Saturn. Rahu will be stationary from mid November 2020 to mid February 2021 at 25 degrees in Taurus. During this period, it will afflict the natal planets Mercury and Saturn. Mercury as said earlier signifies the 7th house of public image and his political allies. Mercury also is mooltrikona lord of 10th house of status, profession, governance, etc. Since, Rahu is afflicting natal Mercury, his political allies will go against him and try to dethrone him. Rahu also is afflicting natal Saturn which is the lord of 2nd (Status) and 3rd (Neighbouring countries). He can create border conflicts with India in order to deflect the attention of the people of Pakistan to gain political mileage. Similarly, transit Ketu is also aspecting natal Ketu in the 8th house. This combination is also not good as Ketu in the 8th house can give assassination. The transit Ketu will also be in the 12th house from the Asc when the Jupiter/Ketu period operates. The probable events stated above can be witnessed before June 2021 and then another period which will be vulnerable for him will be the last quarter of 2021. During the above period he can also meddle in the affairs of India by provoking at the India Pakistan border.
Sundar Balakrishnan
B.Com., MFM Finance (NMIMS)
2 Year Jyotirvid and 3 Year Jyotirvisharad
(From Bharatiya Vidya Bhawan, Mumbai)
Certificate/Diploma/Advanced Diploma in Sanskrit (From Mumbai University)
M A Sanskrit (Darshan) from KKSU (Results awaited)
Professor of Astrology at Bharatiya Vidya Bhavan, Mumbai
Date: October 19, 2020
Time: 7.00 PM, Mumbai, India
(Copyright – No portion of this article can be reproduced without the written permission of the Author)