After my last article on AAP's prospects in MCD polls, many readers have requested me to write article of future of AAP. Though this article too looks at a near term view. (Refer my earlier article http://jupiterastrology.com/c9-political-predictions/aaps-prospects-in-delhi-mcd-elections-in-april-2017-by-using-chara-dasa-and-kaala-chakra-dasa-method/), I am now presenting this article using Arvind Kejriwal's horoscope. This is analysed by using the Yogini Dasa. My last article was by using Kaala Chakra and Chara Dasa.
Now let us study the chart of Arvind Kejriwal the Delhi CM.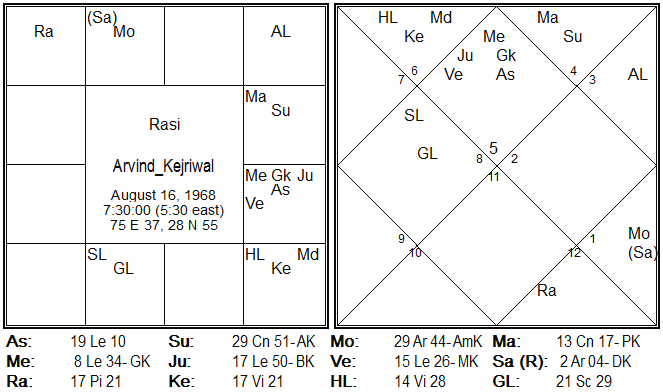 Yogini Dasa
The Lagna rising is 19 Aries 10. Moon is at 29 Aries 44. It is in Krittika 1st pada. The dasa as on today is Sankata/Sankata (of Rahu). It is Sankata/Hastha (Moon). This period is from March 2016 to January 2018. Based on this the "Progressed Lagna" (PL) will be Virgo.
Now taking Virgo as Lagna, the lagna lord Mercury is gone to the 12th house. The 12th house is Vyaya (loss) sthana. This Mercury is also lord of 10th house of profession. It is with the 7th lord Jupiter representing public image and Venus lord of 9th (fortune) house. The Sankata (Rahu a malefic) is in the 7th house of public image. The Rahu will give results of Jupiter too, which is gone to the 12th house. The nakshatra lord Moon (of Hastha) is in the 8th house along with debilitated Saturn (debilitated in Navamsa too). The moon is lord of 11th house (it signifies his friends and fulfilment of wishes). The Saturn is lord of 5th house (his followers, in this case its MLAs). Since Moon is in the 8th house (along with debilitated Saturn) his own friends and well-wishers will desert him. His own MLAs will also quit from his party join other party. The coming sub-periods within Sankata are not at all promising.
Conclusion:
As per the above analysis it is clear that his will-wishers will desert him and his MLAs also will quit from AAP. This threat is looming clearly till January 2018. So there is a threat of AAP government falling before January 2018.
Sundar Balakrishnan
B.Com, MBA (NMIMS, Mumbai)
2 year Jyotirvid and 3 year Jyotirvisharad
(From Bharatiya Vidya Bhavan, Mumbai (BVB))
April 27, 2017
Mumbai, 3.00 PM