Off late the relationship between the above two countries are getting worse. North Korea has threatened to destroy the Guam area in the USA by using a missile which will travel to the Guam with 14 minutes.
I had written my article on what are expected after Trump takes over as the President of the USA. Many of the events predicted are almost the reality or near reality. You can read my article written on November 20, 2016 http://jupiterastrology.com/c8-mundane/usa-what-next-after-donald-trump-a-tropical-analysis/. and January 23, 2017 based on his oath taking chart. http://jupiterastrology.com/c9-political-predictions/donald-trump-oath-taking-chart-a-sidereal-nirayana-analysis/.
About China, I have already written on July 7, 2017 http://jupiterastrology.com/c8-mundane/china-is-it-just-threatening-for-a-war/.
Now, we will study the present tension between the USA and North Korea by first using the USA chart. Later in a separate article I will write about North Korea. The following is the chart of USA.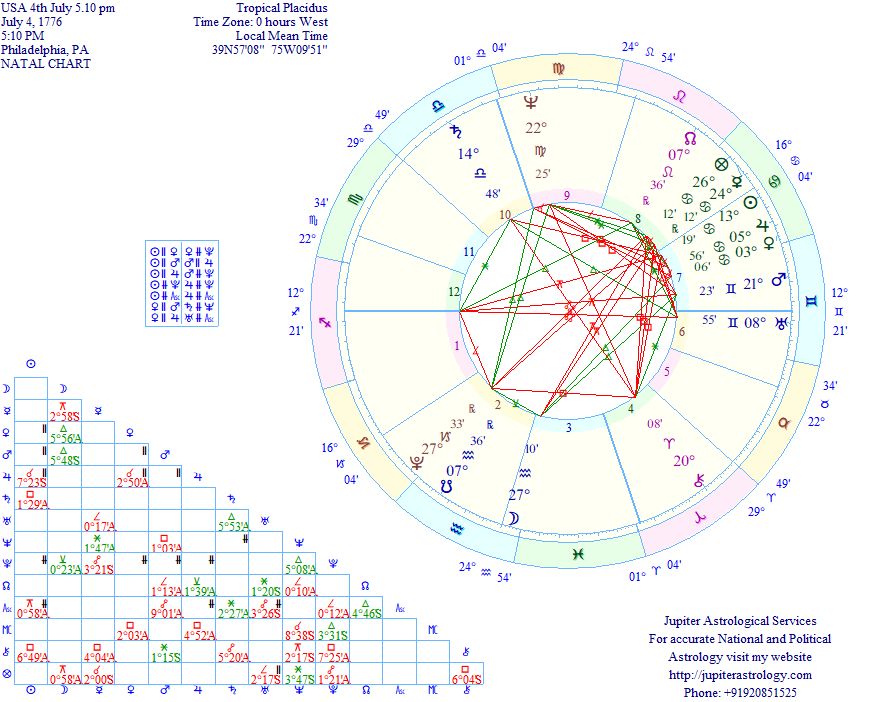 The below chart is the aspects between the Progressed & the natal chart.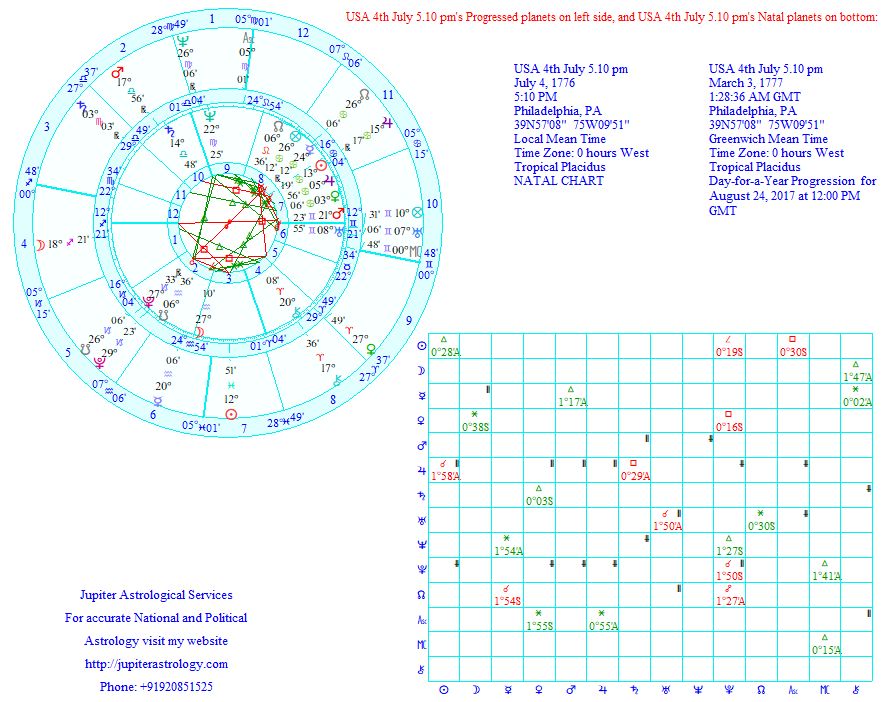 The Asc rising in the natal chart is 12 Sagittarius 21. If you see the Progressed Sun at 12 deg 51 Leo is making exact square (malefic 90 deg) aspect to Asc and Dsc too. The Asc represents the people in general, general state of country, etc. The Dsc (7th house) represents the relationship with other countries, war, etc. So, as per the above aspect one can expect massive damages across the USA and the tension between the USA and its foreign allies will get worsen.
The following is the aspects between the transit (as on August 29, 2017) and natal planets.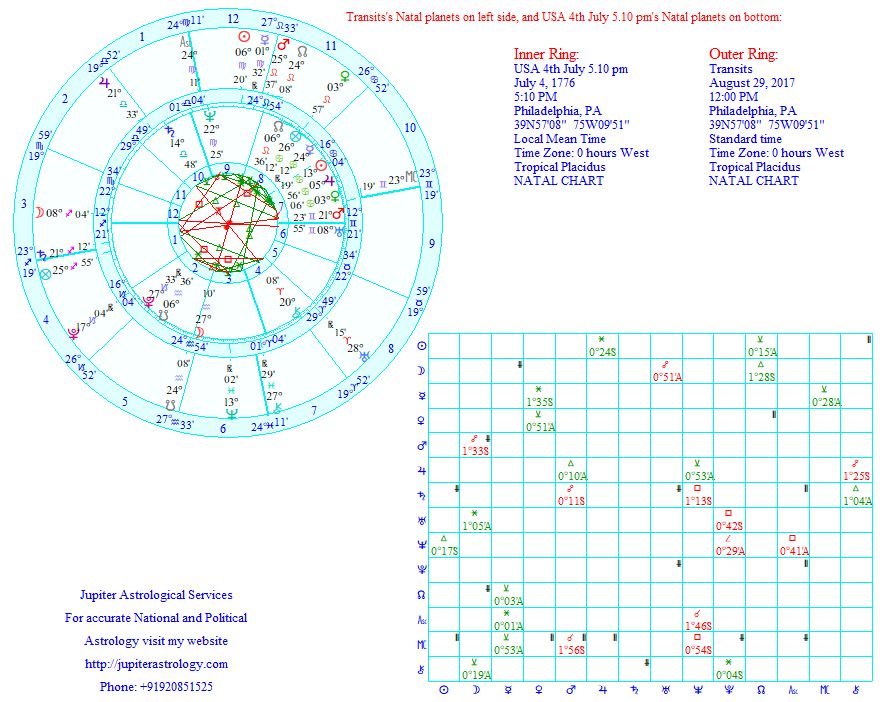 In the above chart, the transit retrograde Neptune at 13 deg 02 in Pisces is exact square to the natal Asc and Dsc. Thus activating the Progressed vs Natal aspect as stated above. The transit Sun currently at 6 deg 20 Virgo will also form exact square to the natal Asc and Dsc around September first week 2017. So the two transits namely, the Sun and Neptune will active the Progressed vs Natal aspect.
Conclusion:
1. Since, the natal Asc is getting afflicted by the both Progressed and Transit planets there will be heavy damages to properties/lives across USA.
2. These damages are expected due to natural calamities.
3. Since the 7th house is also getting afflicted, the relationship with foreign allies will worsen. This will have to be looked at in the light of existing relationship with North Korea.
4. USA will be the first mover with respect to North Korea when it comes to calling for war.
5. The month of September, 2017 is a crucial month to watch for, though the effect of transit Neptune will linger till the first quarter of 2018.
Sundar Balakrishnan
B.Com., MFM Finance (NMIMS)
2 Year Jyotirvid and 3 Year Jyotirvisharad
(From Bharatiya Vidya Bhawan, Mumbai)
Faculty of Astrology at Bharatiya Vidya Bhavan, Mumbai.
Visit: www.jupiterastrology.com
Date: 29th August, 2017
Time: 2.30 PM, Mumbai