Conclusion:
Based on the analysis below, we can expect the following impacts.
The negotiations with China will not work out and there will be border conflicts.
The current situation with China can escalate further resulting into localised/expanded conflicts.
There will be accidents in the communications sectors (like air, rail, road, shipping, etc.)
Analysis: The New Moon chart for October 17, 2020 is attached. The effect of this chart will be till the next New Moon which will be approx till November 15, 2020.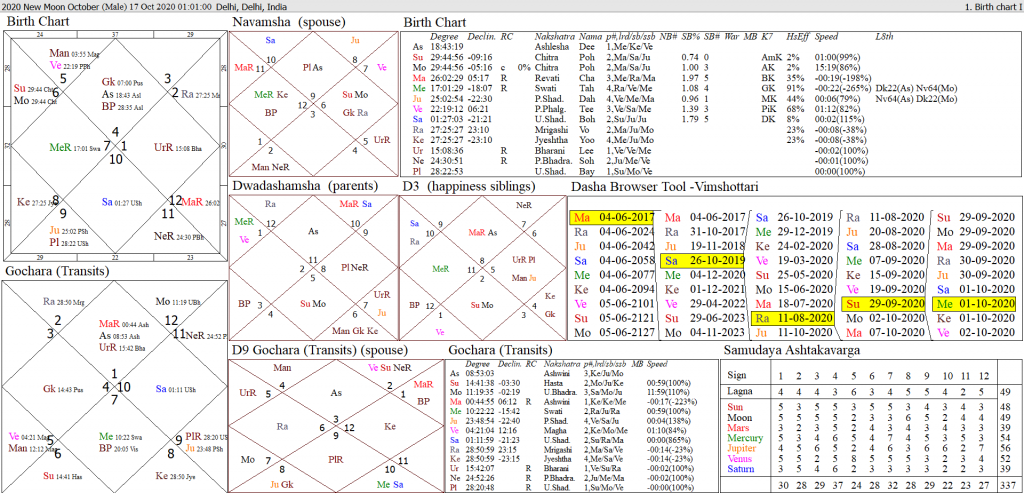 The Asc rising in the above chart is Cancer 18 deg 43 mts. The New Moon (at Virgo 29 deg 44 mts) occurs in the 3rd house which signifies neighbouring countries. The New Moon occurring in the sign Virgo (the natural 6th house of fights, disputes, etc) is aspected by Mars Retro (in Pisces 26 deg 02 mts) and Rahu ( in Taurus at 27 deg 25 mts). The Asc Cancer rising is also the 3rd house as counted from the India Independence horoscope, where the sign rising is Taurus. The Asc Cancer is aspected by Saturn and Ketu. The 3rd house in addition to neighbouring countries in mundane astrology signifies all forms of communications like air, rail, road, shipping, etc. The significator of Communications is Mercury. Mercury in the chart is in the 4th house and its retrograde. It is aspected by Saturn and Mars (Rx) and in papakartari yoga between Sun and Ketu.
Sundar Balakrishnan
B.Com., MFM Finance (NMIMS)
2 Year Jyotirvid and 3 Year Jyotirvisharad
(From Bharatiya Vidya Bhawan, Mumbai)
Professor of Astrology at Bharatiya Vidya Bhavan, Mumbai
Date: October 1, 2020  
Time: 8.30 PM, Mumbai, India
(Copyright – No portion of this article can be reproduced without the written permission of the Author)