Mars has been in Scorpio for the last 6 months and it will leave Scorpio finally on September 18, 2016.
I had written a detailed article on the conjunction of Saturn and Mars in Scorpio and its impact on relationship with our neighbouring countries. We have certainly witnessed how the relationship has been weakening with Pakistan. In my last article, I have clearly stated that there will be increased tensions at our borders and also possibility of war too. The tensions in borders have certainly increased where we have seen infiltrations increasing and moreover we have seen how Kashmir has been burning. Kashmir has been on indefinite curfew for the last 65 days or so.
As I said earlier, Mars will leave Scorpio on September 18, 2016 and reside in Sagittarius till October 31, 2016. Let us see what will be the effect of it with respect to India.
Let us see the Independence chart of India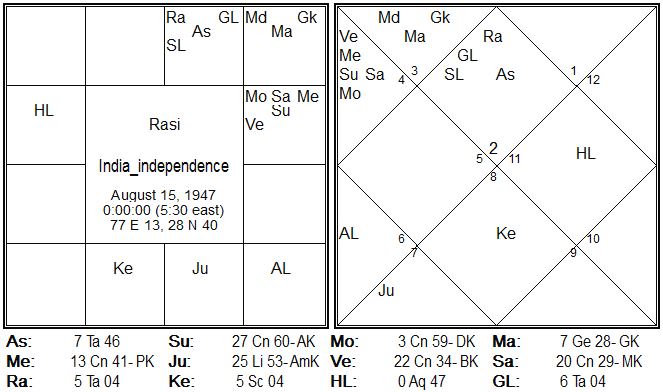 The chart given below is the transit chart as on October 31, 2016.

On closer look at the above two charts you will find following;
– Mars which is currently transiting in the 7th house along with Saturn will transit the 8th house with respect to natal chart. Added to this Rahu also will cast its aspect from Leo to Mars. The 8th house signifies deaths, calamities, etc. Since, it is in the sign Sagittarius, a fiery sign and natural 9th house (religion, casteism), it will signify deaths and calamities arising out of places from religious places/caste divide, extremists/separatists taking upper hand, and the likes.
– Mars on September 20, 2016 will be in Mrithyu Bhaga (MB) which is a critical degree.
– Saturn thereafter from September 23, 2016 till October 6, 2016 will also be in Mrithyu Bhaga (MB). Saturn in the 7th house signifies the relationship with our foreign relations turning worse.
– Saturn in 7th house and Mars in 8th house along with aspect of Rahu, will be very crucial for India. This will trigger war with Pakistan or the Kashmir situation will go out of control.
– The traditional chart for India as given by sages is Capricorn. Even if we take Capricorn as lagna, Mars will be in 12th house with the aspect of Rahu from the 8th house. Saturn will be in 11th house in badhaka sthana.
Conclusion
With the above planetary configurations, the relationship with Pakistan will become more worse and it is certain that it will trigger war too. If not a full scale war, it will at least have a Kargil type war at Kashmir. This effect will be there till October 31, 2016. It will probably give a start during the period till October 31, 2016 and may spill over to next months.
Sundar Balakrishnan
B.Com., MFM (Finance)
2 year – Jyotirvid and 3 year – Jyotirvisharada
(From Bharatiya Vidya Bhavan, Mumbai (BVB))
Faculty of Astrology at BVB, Mumbai
Mumbai, Maharashtra, India
Date : September 14, 2016
Time : 9 AM.